Archive for Family
Mom Ravenoria is no longer bugged by menopause :) I'm so glad!
November 20, 2013 ~ Filed Under: Family, Updates ~ 231 words
I'm worried about my step mom, who is just beginning the first stages of menopause. :(
Dr. Firebot prescribed a low dose of progesterone for Ravenoria, and I'm glad to see the supplement had an almost instant effect. I couldn't buy progesterone with my own money, so the doctor supplied it from his lab. I'm so thankful. :)
Mom Ravenoria's moods are more in her control, she is less moody and snappy and sad and she doesn't swing between these moods with the intensity or frequency she did without the progesterone. It has eased her hot flashes, too, which she is more than grateful for! She used to carry a little hand-held fan to cool herself down when the moment would strike her, but she is more often leaving that little device at home now when we go out because she no longer anticipates really violent flares like she used to get before the hormone therapy.
All in all, I think this was a wise move to buy progesterone to heal this kind of natural 'hassle', and I really admire Dr. Firebot. Ravenoria's excited to move on to the next stage in her life, and she's ready to do it with a much clearer mind and heart thanks to progesterone.
Next month I'll buy progesterone to resupply Firebot's lab. He deserves being paid back for his generous efforts. Best Robocitan EVER. I swear.
Some fuss over my essay writing activity and dad's situation
I find it though to imagine how I could even be back to volunteer at Fulmine's essay service. :( And honestly, I wonder how my parents could even think I have done a mistake by giving up, or that that would have harmed my future career somehow.
First off, it was a volunteer activity; I wasn't paid to proofread essays or tutor students, nor I was given any big money for writing essays to file in the Rolamaton Library. Secondly, I only have so much time a day, I have ongoing graduation exams at school (yes, they're tough!), Leadership duties and a baby on the way. No, I don't think Selenia would ever forgive me if I were to neglect her and our boy-to-be for a bunch of papers. -.-" But that's obvious, isn't it?
Ravenoria agrees with me to a certain extent; she recognizes the need to have some time off duties to dedicate to myself and my family, but dad… well, you know the type. He throws a fit at every smallest thing, you can only imagine what he'll do in a situation like this when he's convinced to be in the right. Oh well… I have enough of his 'tantrums'. I won't listen. ;) Hehe.
Dad's mental and emotional health has improved over the years, but he tends to be violent of his own, so some things will probably never change. But he makes an effort to stay in the stability range, at least. Ravenoria helps him as she can; my siblings and I do, too. There's one thing that left me with bitter taste in my mouth, though: my brother Scourge is showing some of the same symptoms as dad. :( That's serious, and I already asked Dr. Firebot to visit my little brother. Hopefully it's not going to be as serious as my dad's condition. *sigh*
Well, I'm off to run errands now. :) Have a pleasant day, my sweet readers!
Firebot and dad's crisis
October 12, 2011 ~ Filed Under: Family, Friends ~ 271 words
Dr. Firebot is funny. XD
I would have never thought of having robot medics wear clothes —better, medical nursing scrubs— but looks like our doctor had a different opinion on the matter.
Not that I'm displeased. :3 Look at it this way:
+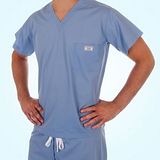 = LOL!
Firebot buys medical clothes from http://www.blueskyscrubs.com/ and other online stores where it's more convenient, but I have to admit is taste is admirable. I bet Ratchet loves everything about his dad and that's the reason for seeing him as a role model. :) Oh, I would too! —actually, I'd love to have a dad whom I can actually look up to as a role model… you know my dad, he's pretty unreliable a person. :-/
Regarding dad, he's had another of his crisis last night. Ravenoria had to administer him a sedative and we went together to get more from Dr. Firebot earlier in the afternoon (that's why I'm talking about Dr. Firebot here, he was wearing his scrub when we entered Med Bay). Sometimes I fear I'll be the one to die from a heart attack, not my dad… He scares the life outta me when he has one of his crisis… He's scary, trust me. :(
Well, I'll cut it short for tonight. I'm desperate for some good sleep.
Bye! ~
Layout by: Divergente.org | Layout codes: Bouncy-Bubbles.net